Hunters and anglers know, there's nothing like the thrill of bagging a prized catch. And, when it comes to preserving that moment forever, wildlife and African animal taxidermy is better than a picture! At
Tundra Tanning & Taxidermy
, we're here to help you preserve that once-in-a-lifetime feeling by providing you with a full range of services centering on wildlife taxidermy in Wasilla, Matanuska-Susitna Borough, Meadow Lakes, Knik-Fairview, and Butte, AK. Come and see for yourself!
Bears & Bear Rugs
We're known nationwide and worldwide for our work with bears—particularly our abilities when it comes to bear rugs. We pride ourselves on producing only the most beautiful work—our workmanship is second to none and it shows! When you demand the gold standard for your bear hide, we're simply the best option. Get in touch with us today for samples of our work and see for yourself!
Trophy Mounts
As a full-service exotic animal taxidermy center in Wasilla, AK, we pride ourselves on being able to tackle any project you bring us. We're adept at working with life-size mounts, head mounts, shoulder mounts, European mounts and more. Just talk to us about what you're looking for and we'll gladly bring it to life.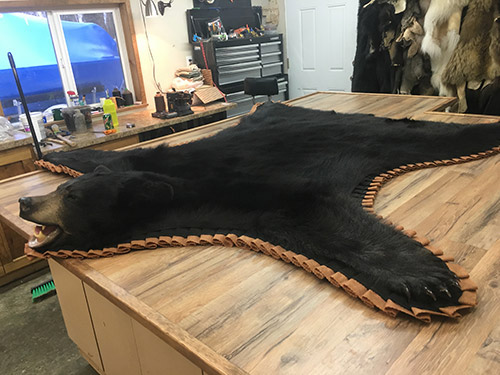 We're able to work with animals of all types, including big game, small game, birds, exotic animal, and African animal taxidermy. Some of the animals we're familiar with include:
Bears
Bison
Blesbok
Caribou
Coyote
Dall sheep
Deer
Ducks
Fallow deer
Fox
Gemsbok
Impala
Kudu
Leopards
Lions
Lynx
Moose
Mountain goat
Mountain lion
Muskox
Ptarmigan
Red stag
Sable
Sheep
Spanish goats
Waterbuck
Wildebeest
Wolf
Wolverine
Zebra
We also do reproduction fish, however we do not work with real fish due to the fragile and sensitive nature of these animals. Just bring us a photo of your prized catch and we'll gladly create a lifelike reproduction for you!
Tanning
We're proud to have our own tanning capabilities in Wasilla, AK, which enables a much quicker turnaround time for your project as opposed to many other shops. Most other wildlife taxidermy centers are a year behind on their orders because they have to send out the tanning to another shop—our shop cuts this wait time in half, to about 6-months. Plus the work never leaves our shop, meaning we're the only ones handling the hide! Contact us for more info on shoulder mounts, European mounts, exotic animal taxidermy, and more.